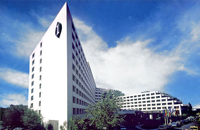 This is the RIPE 67 Meeting Venue and meeting attendees get discounted room rates.
The Athenaeum InterContinental Athens offers RIPE Meeting attendees a room rate of EUR 135 per night including breakfast, Internet access, VAT and city tax. This discounted rate expires on 30 September 2013.
If you prefer to stay somewhere other than the RIPE Meeting venue, you can choose from a number of hotels within walking distance.
Here are some hotel recommendations:
The following hotels are located in the vicinity of the RIPE Meeting venue. The RIPE NCC neither recommends nor guarantees the quality of the hotels listed. Alternative hotel options can be found via booking.com, hotels.com or through a travel agent.
Athens Ledra Marriott Hotel






+ 30 21 0930 0000
Rates start from EUR 129 excluding breakfast and WiFi
Distance: ~5 min walking
Athens Atrium Hotel & Jacuzzi Suites





+30 210 9319300
Rates start from EUR 76 including breakfast and WiFi
Distance: ~11 min walking
Hotel Tony




+30 21 0923 6370
Rates start from EUR 110 including WiFi; excluding breakfast
Distance: ~10 min walking
Ilissos





+30 21 0920 2000
Rates start from EUR 48 excluding breakfast; free WiFi
Distance: ~12 min walking
Acropolis Select




+30 210 92 11 610
Rates start from EUR 99 including breakfast and WiFi
Distance: ~13 min walking
Hera Hotel





+30 21 0923 6682
Rates start from EUR 95 excluding breakfast; free WiFi
Distance: ~14 min walking
Athenian Callirhoe Hotel





+30 21 0921 5353
Rates start from EUR 95 including WiFi; excluding breakfast (EUR 15)
Distance: ~14 min walking
Divani Palace Acropolis






+30 210 9280100
Rates start from EUR 108 including breakfast and WiFi
Distance: ~14 min walking
The Athens Gate Hotel





+30-210 9238 302
Rates start from EUR 110 including breakfast and WiFi
Distance: ~14 min walking
Acropolis Ami Boutique Hotel




+30 21 0922 0810
Rates start from EUR 74 including breakfast and WiFi
Distance: ~15 min walking
Acropolis Hill




+30 21 0923 5151
Rates start from EUR 70 including breakfast and WiFi
Distance: ~16 min walking
Herodion Hotel





+30 21 0923 6832
Rates start from EUR 126 including breakfast and WiFi
Distance: ~16 min walking
Royal Olympic Hotel






+30 21 0928 8400
Rates start from EUR 120 including WiFi; excluding breakfast
Distance: ~17 min walking
Airotel Parthenon





+30 21 0923 4594
Rates start from EUR 98 including WiFi; excluding breakfast
Distance: ~20 min walking

View RIPE 67 Hotels in a larger map