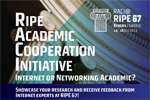 RACI (the RIPE Academic Cooperation Initiative) will provide up to six academics with complimentary tickets to RIPE 67.
RIPE 67 will take place from 14-18 October 2013 at the Athenaeum InterContinental Hotel in Athens, Greece.
The RIPE community has strong ties with the academic and research sector ever since the beginning of the Internet in Europe, and the goal of RACI is to strengthen those ties while promoting the work of talented researchers and academics in Europe, Central Asia and the Middle East.
RACI provides selected academics with complimentary tickets to the RIPE Meetings, which last five days and regularly attract over 500 attendees from the Internet community. The tickets, worth EUR 350, entitle the academics to attend all RIPE Meeting sessions, and to lunch and social events at the meeting venue.
The initiative is coordinated with the RIPE Programme Committee to allow the RACI academics to present their research at RIPE Meetings, either during plenary/working group sessions, or in lightning talks at other designated sessions. This is an outstanding opportunity to present their research and network with some of the key figures in the Internet world.
The academics selected by RACI to attend RIPE 66 in Dublin, in May 2013, reflected on their experiences.
Sponsorship Package & Benefits
Applicants selected by RACI will receive free entry to RIPE 67, including all sessions and social events.
These scholars will also:
Present their research at the upcoming RIPE Meeting to approximately 500 members of the technical community
Receive valuable input and critique regarding their work from industry experts and attendees
Experience the professional networking environment with parties from a variety of nations and backgrounds, and get their perspectives on current topics of interest
Network with the "movers and shakers" of Internet infrastructure and governance, enhancing career and development prospects – previous RIPE Meeting attendees and sponsors have included some of the biggest names in related industries
Publish their work to the technical and Internet community at large via RIPE Labs, a public platform frequented by network operators, developers and industry experts
Applicant Profile
RACI applicants must meet the stipulations specified in the Guidance Notes.
Academics may wish to propose presentations on research in these areas, which are discussed at RIPE Meetings:
Network measurement and analysis
IPv6 deployment
BGP routing
Network security
Internet governance
However, this list is not exhaustive and the community is receptive to all relevant topics of interest.
Application Process
Application for attendance to RIPE 67 as part of RACI is now closed.